Our vision and mission state our purpose and who we want to be in the future. Our values are all about who we are, what we believe in and what sits at the very heart of a Hippodrome experience.
Our Vision
"A distinctive, world-class Birmingham cultural scene with the Hippodrome at its heart"
Our Mission
"Providing that "goosebumps" feeling through memorable and extraordinary experiences"
Our Values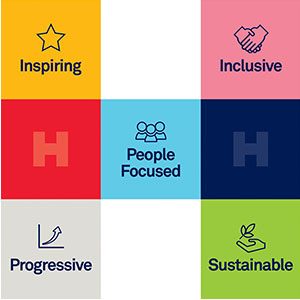 ★ People focused
We care deeply for our staff, audiences, volunteers, partners, participants and artists and are dedicated to ensuring that any Hippodrome experience is a positive one. Our people are the beating heart of Birmingham Hippodrome.
★ Inclusive
We provide a safe and inclusive space for expression and creativity, priding ourselves on being collaborative and reflective of our city region. Inclusion is integral to everything that we do and is central to our decision-making.
★ Inspiring
We bring individuals, groups and communities together to share those wonderful 'goosebumps' moments: emotive, world-class, cultural experiences that ignite imaginations and inspire future generations.
★ Progressive
We are ambitious for ourselves, our partners and our city region. We aim to be the best at what we do, always looking for new ways to advance, improve and evolve whilst being mindful of our rich and vibrant history. ​​​​​​​
★ Sustainable
We take care with our actions, safeguarding the long-term sustainability of Birmingham Hippodrome through our work, environmental responsibilities and business practices.