We're delighted to be reopening Van Gogh Alive for a limited 7 week run. 
Don't just admire Van Gogh's paintings – immerse yourself in them at the most visited multi-sensory experience in the world.
This is no ordinary art exhibition. Van Gogh's works have been exhibited and admired for over a century – but never like this. Created by Grande Experiences, Van Gogh Alive, a digital art experience using stunning projections and classical music gives you the unique opportunity to step on to the Hippodrome's main stage and truly venture into Van Gogh's world.
We're extending the Hippodrome stage into the auditorium to bring Van Gogh's masterpieces to life, giving you the sensation of walking right into his paintings.
Wander around the experience, viewing Van Gogh's works from different angles, and be surrounded by a vibrant symphony of light, colour, sound and fragrance – an 'unforgettable' multi-sensory experience.
Adults and children delight in the super-scale show. But don't just take their word for it: experience it for yourself!
Find out more about our Covid safety measures here
---
Access at Van Gogh Alive
We're always striving to provide the best facilities for our customers that require assistance. Click here or the icons below to find out more information including frequently asked questions.
Deaf and Hard of Hearing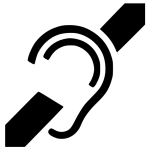 The experience has been created by Grande Experiences.