Come and join us at the Young Advocates Stage on Rotunda Square (right by the Bullring bull) for two days of incredible performances and party vibes by local artists, curated by the Birmingham Hippodrome's Young Advocates.
Birmingham Hippodrome's Young Advocates is a group of young people that, whilst on their own journey of learning and development, will shape and influence the work of the Birmingham Hippodrome. Over a series of workshops and meetings, the 22 Young Advocates have shared their ideas, advice and imagination to help design the stage and curate the programme. The curation themes of this stage are inclusivity, accessibility, sustainability and culture. The Young Advocates Stage highlights the amazing talent in West Midlands.
Performances include musical stage takeovers from Girl Grind, spoken word poetry, drag and queer artists from House of Allure and Queer-Side, dance performances by Eloquent Dance, Carnival celebration by ACE Dance, incredible DJ sets, and so much more.
The whole festival finale will be at the Young Advocates Stage on both Saturday 26th and Sunday 27th with huge celebrations, music, dancers and confetti!
Click here to view the full programme.
Sat 26 Aug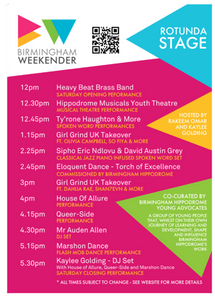 Sun 27 Aug