Our Young Advocates programme brings together a group of young people who, whilst on their own journey of learning and development, shape and influence the work of Birmingham Hippodrome.
We're now recruiting for the second cohort of our Young Advocates!
What we're looking for:
Anyone aged 14-22 from across the West Midlands can apply.
We're looking for applicants who have an interest in lots of different areas of theatre as well as performance. This includes marketing, finance, technical, stage management and education.
We'd love to hear from as many young people as possible. You don't need to have any experience; we're looking for interest in the work of the Hippodrome and a commitment to the programme. In return, you'll receive a commitment from the Hippodrome to give you personalised support, development and lots of amazing experiences!
What the opportunity involves:
Young Advocates will spend a year with us.
Starting in January, the group will meet twice a month on Wednesday evenings, alternating between planning and discussion meetings and skills development and training sessions.
After Summer 2023, we'll look to match each Young Advocate with a placement in the Hippodrome in an area of your interest.
Our previous Young Advocates worked on projects including Birmingham Weekender, TEDxYouth@Brum, as well as developing their idea into reality in the form of our Young Community Drop Ins.
The Young Advocates is a hands-on programme and requires a commitment to attend most sessions and deliver projects during summer. There will be some flexibility in attendance, and we'll make space for exam season, but you'll get the most out of it by being highly engaged.
Timetable for applications:
We have two information sessions on Wed 9 Nov at 6pm and Wed 16 Nov at 6pm via zoom.
On Sat 12 Nov at 3pm, we're also offering a space for young people to meet some of the team and see the building in a no pressure, relaxed environment. We'll meet you at New Street Station and show you the best way to get to the Hippodrome, the different entrances and the rooms we'll be using. You'll also get to ask us about any additional support you might need to become a Young Advocate
The deadline for applications is midnight on Wed 30 Nov.
Group workshop interviews take place on Wed 7 Dec.
You'll know if you have a place or not by the Fri 16 Dec.
How to apply:
You can apply using this form here.
The deadline for applications is midnight on Wed 30 Nov.
If you'd prefer, we'd also be more than happy to receive applications via voice or video recording which can be sent to participation@birminghamhippodrome.com
Find out more about applying to be a Young Advocate in this video….
The programme is supported by Worcestershire-based creative communications agency, DRPG.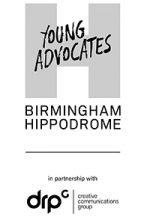 We are very grateful to the following Trusts and Foundations for their funding support for Hippodrome Young Advocates:
William A Cadbury Trust
The Oakley Charitable Trust
The D'Oyly Carte Charitable Trust
The Richardson Brothers Foundation