Meet our biggest panto fan, who travels hundreds of miles for festive magic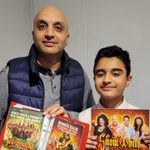 Rishi Bhavnani lives 100 miles away from Birmingham, but he still knows everything about the Hippodrome pantomime.
Quiz him on the cast, the sets and costumes and who produces the panto, and you can't catch him out. What is really remarkable is that he knows the same details about every major panto in the UK, yet he's only 12.
He's a walking panto encyclopedia, having fallen in love with the festive treat at the age of three. He spends all year researching shows and sees at least three every Christmas. He'll have enjoyed more than 20 in total by the time this season is over.
Rishi knows the names of the theatres in each UK town and which panto they are putting on this year. He keeps track of the casts and collects programmes and flyers from as many theatres as possible.
He travelled to Birmingham in 2019 from his home in St Albans, Hertfordshire to see Snow White and the Seven Dwarves at the Hippodrome.
He says: "The Hippodrome is one of THE pantos to see in the UK, along with the Palladium. It's one of the best in the country. The cast is very important, you have to have the right people in it. They work very hard and Matt Slack is very good. I think it's interesting that this year he is playing the title role for the first time.
"I know that Hippodrome pantos often use the costumes and sets from the Palladium production from the previous year, so you'll be getting Jack and the Beanstalk next year. Then that production tends to go to Southampton – they've got Goldilocks this year.
"I have loved panto since my first one in St Albans when I was three. What really stuck with me was when Cinderella's carriage flew out over the audience. That was magical."
Rishi's dad Sanjeev says: "Panto was something he really enjoyed, so we've been back every year. We go two or three times a season to different pantos and this year it will be to four theatres near us.
"Rishi is a real enthusiast, he spends all year living and breathing panto. I don't know where he gets it from because his experience is very different to mine. I only saw one panto when I was a child, when I was taken by the school. We didn't have the money to go to theatres.
"Now I support his passion as much as I can and have been to lots of pantos! He educates me on the productions and sets, he's an encyclopedia. I don't think there's another child in the country with this level of pantomime knowledge.
"I got him an A5 folder to keep all the programmes and flyers. When we hear friends and relatives are going to new towns, we ask them to pop into the theatre to pick up a panto flyer for Rishi's collection."
So why does Rishi love panto so much? He says: "I love the interaction with the audience, which makes panto different to other shows. I like joining in with the booing and shouting things out. And I like the slapstick.
"My three favourite stories are Aladdin first, then Snow White and the Seven Dwarves, and thirdly Cinderella."